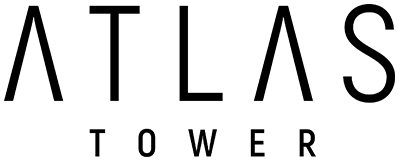 Atlas Tower is a 112m high, B+ class commercial and office building, located in the centre of Warsaw.
The building offers modern office space, which we tailor to individual needs of our tenants. The building also houses a shopping centre and conference rooms. Our excellent location in the central business district ensures direct access to public infrastructure and transport.
The shopping mall and restaurants
Plaza is not just an office space. On the six floors in the lower part of the building an shopping gallery is located. It hosts numerous shops, medical clinics, financial institutions and consulting firms. The fifth floor offers choice of restaurants.
Car parks
Atlas Tower has two underground garages with a total of 249 parking spaces and 290 parking spaces on the ground car park. Customers and visitors of our tenants are welcome to use the underground car park, with access from Nowogrodzka Street (4 PLN / h) and on ground car park between Grójecka Street and Jerozolimskie Avenues, with access from Jerozolimskie Avenues (4 PLN / h).
The building is located at 123a Jerozolimskie Avenue, just by the Zawiszy Square, at the crossroads of major transport routes in Warsaw: Jerozolimskie Avenues, Towarowa Street, Grójecka Street intersect here with Raszyńska Street - the route to the airport.
Atlas Tower can be reached Numerous bus and tramway lines and two suburban railway lines allow hassle free connection with all city districts. Central railway station and subway station "Rondo Daszyńskiego" are in close vicinity.
Public transportation
Public transportation in the immediate vicinity of the Millennium Plaza:
WKD line W-wa Ochota
Tram lines 1, 7, 8, 9, 22, 24, 25
Bus lines: 127, 130, 150, 158, 159, 175, 501, 504, 512, 517, 521
Line of fast urban train SKM
Suburban railway KM
Hotels nearby
Radisson Blu Sobieski
Kyriad
Campanille
Marriott
Intercontinental
Hilton
Al. Jerozolimskie 123A
02-017 Warsaw
tel. (reception) +48 22 529 52 52
tel. (headquarters) +48 22 208 09 05